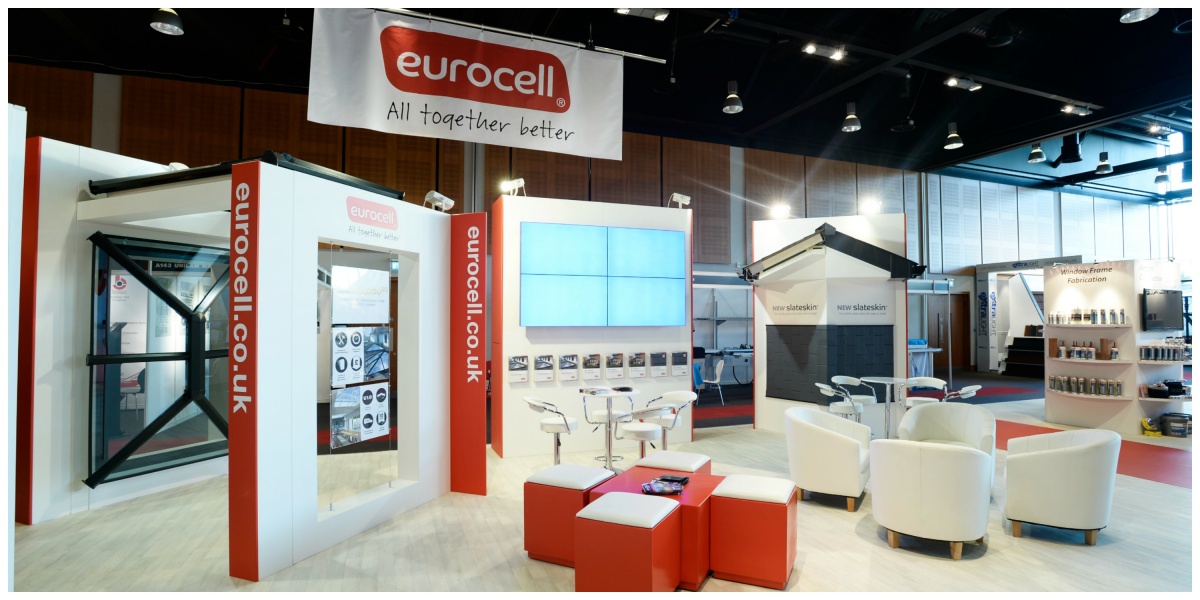 Choosing the right exhibition stand for your business is an important decision. You need to consider budget, portability, reuse, storage and above all, what type of exhibition display will best showcase your business. To help you make an informed choice, we have outlined which exhibition stands suit which kind of exhibitor.
A custom exhibition stand is ideal for businesses looking to exhibit at least two times per year. A high quality and well designed custom exhibition stand should be versatile, allowing reconfiguration for different sized floor spaces and different stand positions, for example; island, corner, shell scheme etc. Because this is likely to be a significant chunk of your marketing budget it is vital that your stand is durable and adaptable to ensure a good return on your investment. Most custom exhibition stands need to be transported and installed by a professional team of exhibition stand builders, however we have built custom designed stands specifically for customers who wanted to install the exhibition display themselves. A good example of this can be found in the Rapidrop case study.
If your bespoke exhibition stand has been designed and built to a high enough standard then there is also the option of using it for a showroom, reception or other permanent display, once you have finished using it for the exhibition circuit. A good example of where we have done this is with the previous Bleep Plc custom exhibition stand, which is now permanently installed as a custom display in the Bleep London Showroom.
The custom hire stand is for some exhibitors, the best of both worlds. It usually comprises of versatile basic hire components such as; exhibition walling, aluminium gantry frame, exhibition raised flooring, lighting and display podiums. This is then combined with custom elements, including graphics and bespoke product displays. The custom hire solution is only suitable for professional installation. This option meets the needs of a broad range of exhibitors. For those who exhibit regularly, but may not know from one year to the next how often, a custom exhibition stand for hire allows less upfront capital investment, but not forsaking a high quality bespoke finish. It's also ideal for businesses who are new to exhibitions and therefore want to use a hire system before investing into a stand for more long term use.
This is an off the shelf option that is an exhibition stand you will own, but is not as much of a capital investment as having a custom exhibition stand designed and built just for you. Self build exhibition stands come in a huge range of sizes, complexities and budgets and are designed to be installed and transported by your team. They are usually modular stands that are constructed from aluminium framework. This makes them fairly adaptable, allowing you to buy additional modular components, should you want to enlarge them at a later date.
Pop up exhibition stands and pop up banners are part of a group of exhibition equipment called portable displays. They are versatile, easy to transport, easy to install and offer the lowest cost option, with a range of size and display types from fabric displays to pop up stands and roller banners. They are ideal for small exhibition spaces and are often used in shell schemes as an alternative to purchasing shell scheme graphics. They can be accessorised with counters, product display podiums, literature stands and iPad holders to give the impression of a larger and more substantial exhibition display. For exhibitors who are on a small budget, need an exhibition display they can transport by themselves in a medium sized vehicle and set-up on their own, then a pop up exhibition stand offers a great solution.
To speak to us about your next exhibition please call us on +44 (0)1733 570222 or complete our enquiry form below and we will be in touch with you.
ENQUIRY FORM