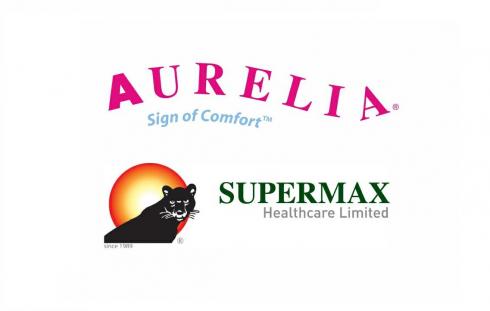 London ExCel were hosting the 2019 Cleaning Show and Aurelia Gloves were looking to invest in a new custom exhibition stand
SERVICES OFFERED
Custom Exhibition Stand
Exhibition Stand Design
Exhibition Stand Builder
Lightbox Displays
EXHIBITION STAND DESIGN BRIEF
Supermax Healthcare Limited are the leading manufacturer of gloves for the healthcare profession. They had secured a centrally positioned 6m x 5m stand space with three open sides for the Cleaning Show 2019. They were in the market for a backlit illuminated exhibition stand, with high-up branding and ample spaces for displaying their range of healthcare gloves. An area to meet and speak with stand visitors was essential and a hidden space for storing stock and the teams personal belongings was also needed.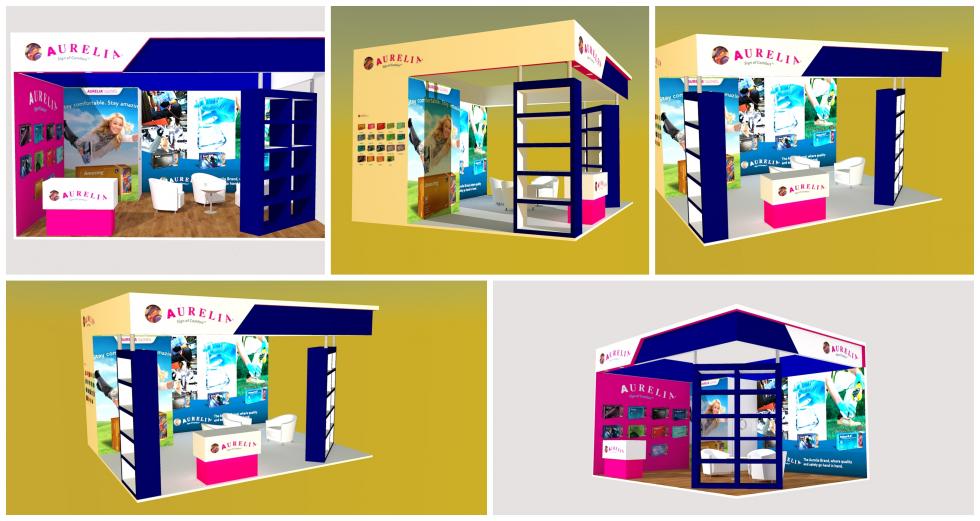 THE SOLUTION

We designed this exhibition stand to work within a floor space that could have either two or three open sides, as these were the two layouts that the customer had already booked for their 2019 exhibition programme. The stand we built for the Cleaning Show had three open sides. The stand had bespoke exhibition lightboxes combined with a large tension fabric banner display, which was mounted around the top of the stand perimeter. The custom lightboxes illuminated the brand and the banner stood tall at 4 metres off the ground, ensuring the companies presence could be seen from across the ExCel exhibition hall. Product display shelves were vinyl wrapped in Aurelia Gloves colours and LEDs were recessed into channels so that each shelf was discreetly illuminated. The back wall of the stand housed a walk-in store and was made from a large lightbox. A bespoke counter with LED underlighting worked as a meet and greet reception and low level seating provided a comfortable meeting space.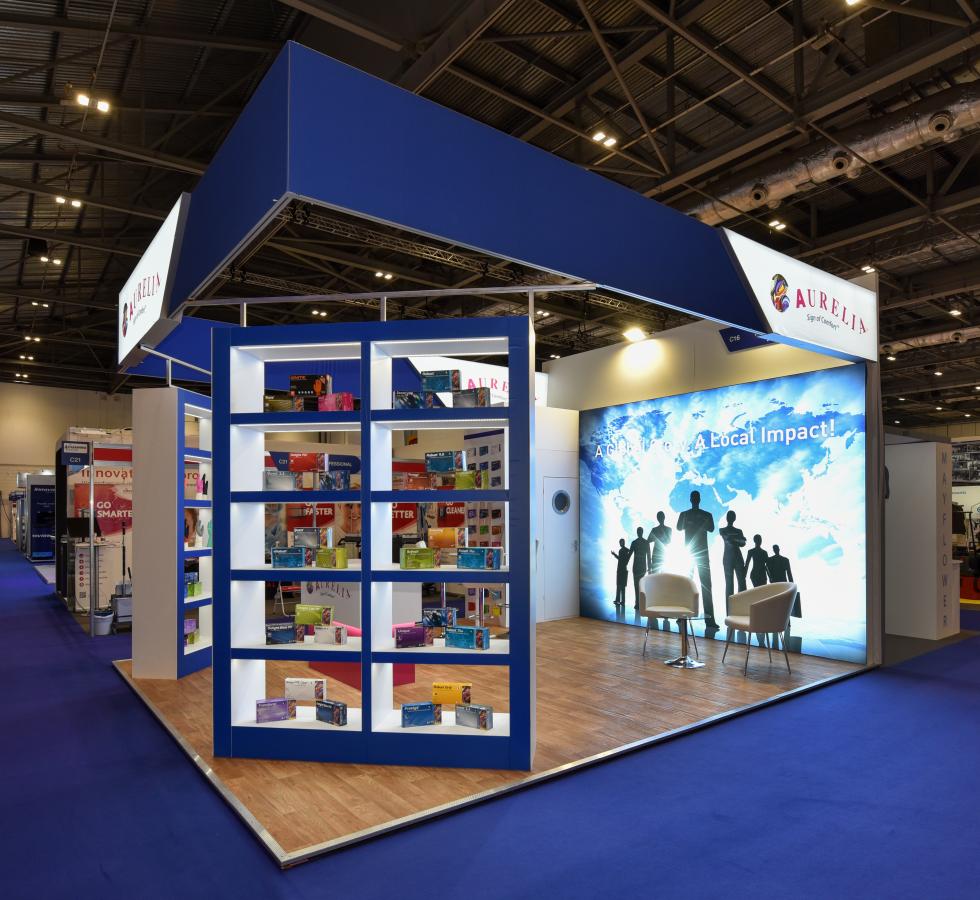 This custom exhibition stand provided an impressive display for the leading glove manufacturers' presence at Cleaning Show 2019. The chunky laminated shelving with the recessed LEDs created the ideal platform for the range of products and the large lightbox display provided an illuminating backdrop to the entire stand. The tension fabric banner with integrated lightboxes ensured that brand could be seen anywhere in the hall and the fact that it was floor mounted rather than being flown, had a positive impact on the bottom line.
NEED AN EXHIBITION STAND QUOTE?
You can either call our team on +44 (0)1733 570222 to discuss your wish list or complete our detailed design brief form here.
BROWSE OTHER EXHIBITION STANDS