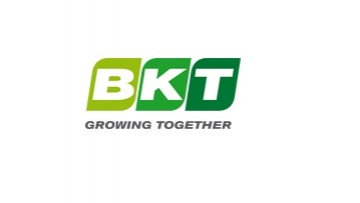 LAMMA is a massive show in the farm machinery world. Kirkby Tyres had an impressive exhibition stand as UK distributor for BKT Tyres.
SERVICES OFFERED
Bespoke Exhibition Stand
Custom Displays
Exhibition Stand Design
Graphics
EXHIBITION STAND DESIGN BRIEF
As UK distributor for BKT and a regular exhibitor at LAMMA, Kirkby were looking to do something bigger and better this year. The BKT brand was to adorn the custom displays and counters. They had a large inside stand space for a 25 x 10 metre exhibition stand. There was a need for many robust custom displays, each one able to hold a giant tyre in place. In addition to these displays, the marketing team were also looking to have a large central tower to store hundreds of promotional footballs. A reception desk, somewhere to serve refreshments and a seating area were also on the wish list.
EXHIBITION STAND BUILD
The large exhibition stand was dominated by the individual custom displays each one housing a huge tractor tyre, with the biggest being 2 metres tall. At each end of the stand was a tall signage tower, clad in high quality branded graphics. The giant football tower was designed to house 1000 balls and we created a clever collection hatch so that the marketing team could easily access the balls with a controlled and smooth action. This was vital for their promotional giveaways, which in turn created a fantastic buzz around their stand.
The curved reception counter and refreshment bar was also clad in branded graphics and was the perfect solution for allowing the sales team to casually mingle with customers.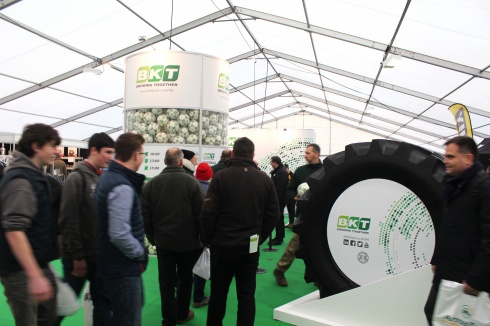 THE OUTCOME
The Kirkby team were a roaring success at LAMMA 2017. The images speak for themselves. Their bespoke exhibition stand dominated the main hall and the sheer volume of visitors to their exhibition stand was outstanding. A well deserved success for everyone involved.
If you would like to explore your options for a new custom display stand with GH Display you can call us on +44 (0)1733 570222 or complete our enquiry form below and we will call you.
ENQUIRY FORM