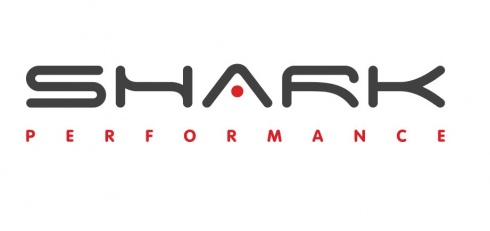 The Shark Performance stand has been used for exhibition purposes as ell as featuring on the hit TV show For the Love of Cars
SERVICES OFFERED
Exhibition stand hire
Installation
Graphic production
THE DESIGN BRIEF
Shark Performance, the revolutionary tuning company asked us to design an exhibition stand that would be tall enough to be seen from a long distance and would be similar in design to the gantry structures used on the BBC Top Gear stage set. The stand needed to incorporate iPads and flat screen TV's to allow for digital promotions to be streamed throughout the exhibition. The floor area that was booked was a 10 x 5 metre floor space and would have four open sides.
THE SOLUTION
We designed and built a 4 metre tall gantry exhibition stand, with floodlights and a metre tall laminated graphic, which wrapped horizontally around the inside edge of the top gantry frame. Tall vertical graphic boards with further branding and product information were used to accompany vehicles and to add structure to the main stand frame. Flat screen TVs and iPads were mounted on the gantry legs and the floor was covered in a co-ordinated red carpet. This stand was designed and built for Shark Performance to own and GH Display to transport and install at their forthcoming exhibitions. This stand is also offered for hire. Read more about our exhibition stand hire options here.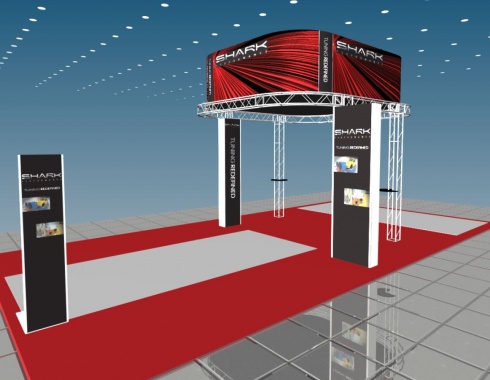 THE OUTCOME
The feedback from Shark Performance was that they were very pleased with their high impact stand that attracted record visitors to their brand and stood head and shoulders above the competition. Since their first exhibitions the stand has also been used on the Channel 4 programme, For the Love of Cars.
If you would like to get in touch about a new exhibition stand to hire or buy call us on +44 (0)1733 570222 or complete our design brief form.