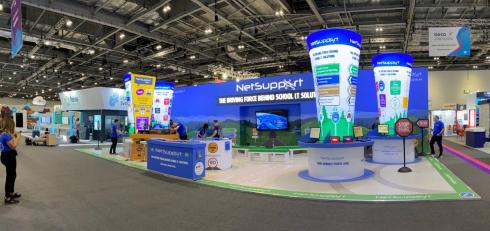 Creating unique and engaging custom exhibition stands is what we do best
SERVICES OFFERED
Bespoke Exhibition Stands
Custom Exhibition Stands
We create captivating custom displays
As a leading exhibition stand contractor we design and build high-quality and innovative exhibition stands. We understand that creating a beautiful display stand for your brand is not enough on its own, which is why we pride ourselves on providing a first-class customer experience. Browse our portfolio of custom built exhibition stands for some inspiration.
What is a custom exhibition stand?
A custom exhibition stand is a totally bespoke designed and built trade show display. The display stand will be designed and built around your brand, products and services. If done successfully it should convey your company ethos, speak your brand language and showcase your unique offering in an innovative and eye catching way. The custom exhibition stand will be built to the exact size and layout requirements of your stand space. It should also factor in as many elements from your brief as possible. Common requests are a stand that is designed to be reusable, extendable and reconfigurable. Lightboxes are an effective way to illuminate your custom exhibition stand and custom made shapes and displays provide a high quality and bespoke feel to your display.
How is a custom exhibition stand made?
We design and create custom exhibition stands from wood (usually ply, softwoods, hardwoods, mdf and chipboard), metal (usually aluminum and steel), acrylic, glass and inflatable plastics. Using our skilled team of carpenters and our CNC machinery we can create totally unique shapes from timber and acrylic. We can build a custom exhibition stand to be modular by creating it from aluminium extrusions, allowing for the custom display stand to be easily reconfigured, extended or reduced in size without fundamentally redesigning the entire stand. We can create a wide variety of finishes for your stand from simple painting, spray paint finish, powder coating, vinyl and laminated finish. Essentially you tell us what your ambitions, budget and longer term exhibition requirements are and we can provide a range of cost and design options for you to consider
How much does a custom exhibition stand cost?
As for creative design and complexity - the sky is the limit. Costs can vary from as little as £3500 for a simple 3m x 3m stand and be as high as £150,000 for a huge two storey custom exhibition stand with totally unique impressive and immersive features. The cost will also depend on factors such as stand materials, finishes, complexity of build (such as whether lifting equipment will be required for the install and breakdown) and whether your exhibition stand is made completely custom so that every element of the display is manufactured for you and you alone. An alternative and often a good cost saving option is to use our existing hire stock for less bespoke and more generic elements of your custom stand, such as the wall panels. You can then use your budget for creating one off custom and more complex elements that will give your bespoke display stand the wow factor.
Who will install my custom exhibition stand?
Generally we are asked to transport, install and breakdown custom exhibition stands for our customers. We plan all aspects of the exhibition installation and breakdown for you, working closely with your team, the event organisers and onsite contractors, taking away the stress, logistical planning and hassle factor. GH Display transport, install and de-rig custom exhibition stands all across the UK, Europe, USA and worldwide. That said, if you would prefer we designed and created a custom exhibition stand for your team to transport and install, that is also something that we often do. In this scenario we would take into account the skill set of your team and transportation available to you when designing how the stand will be manufactured and installed.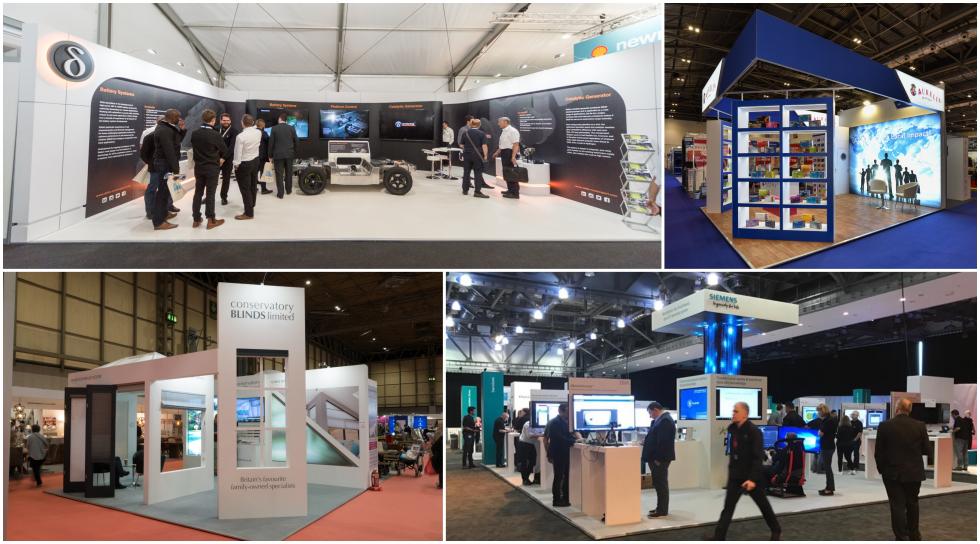 We have over 45 years of experience designing and building exhibition stands from timber, aluminium, acrylic and composite materials. Our in-house team of skilled carpenters and fabricators can create a custom exhibition stand that will guarantee to get your brand noticed and our in-house print team can supply your bespoke exhibition stand with high quality vinyl or fabric graphics. You can browse our portfolio of exhibition stands and custom display projects or call us on 01733 570222 to discuss your next event.
Our installation team travel throughout the UK, Europe and worldwide, transporting, installing and de-rigging custom exhibition stands. We have a fleet of vehicles and our team will transport your bespoke exhibition stand to and from the event, ensuring we control all elements of build-up and the breakdown.
We have our own stand designers and stand builders in-house, ensuring that we can control all aspects of design, build quality and finish. Our own in-house graphics printing team and state of the art printers ensure the highest possible quality of exhibition graphics. Whatever your aspirations, event location and budget we will strive to exceed your expectations.
Wooden Custom Exhibition Stands
Our team of skilled carpenters can create a totally bespoke and truly captivating custom exhibition stand from wood. We can create intricate shapes, bespoke displays and custom lightboxes using timber, by either hand cutting or machine cutting on our CNC router.
Aluminium Custom Exhibition Stands
We can create your bespoke exhibition stand using aluminium. Aluminium profiles are extremely modular and can also be curved to create more interesting shapes. An aluminium exhibition stand lends itself well to being reconfigured and extended, as and when your display stand requirements change. Aluminium is a versatile and easily recyclable material and can be used with more traditional vinyl graphic prints or with stretch fabric graphics.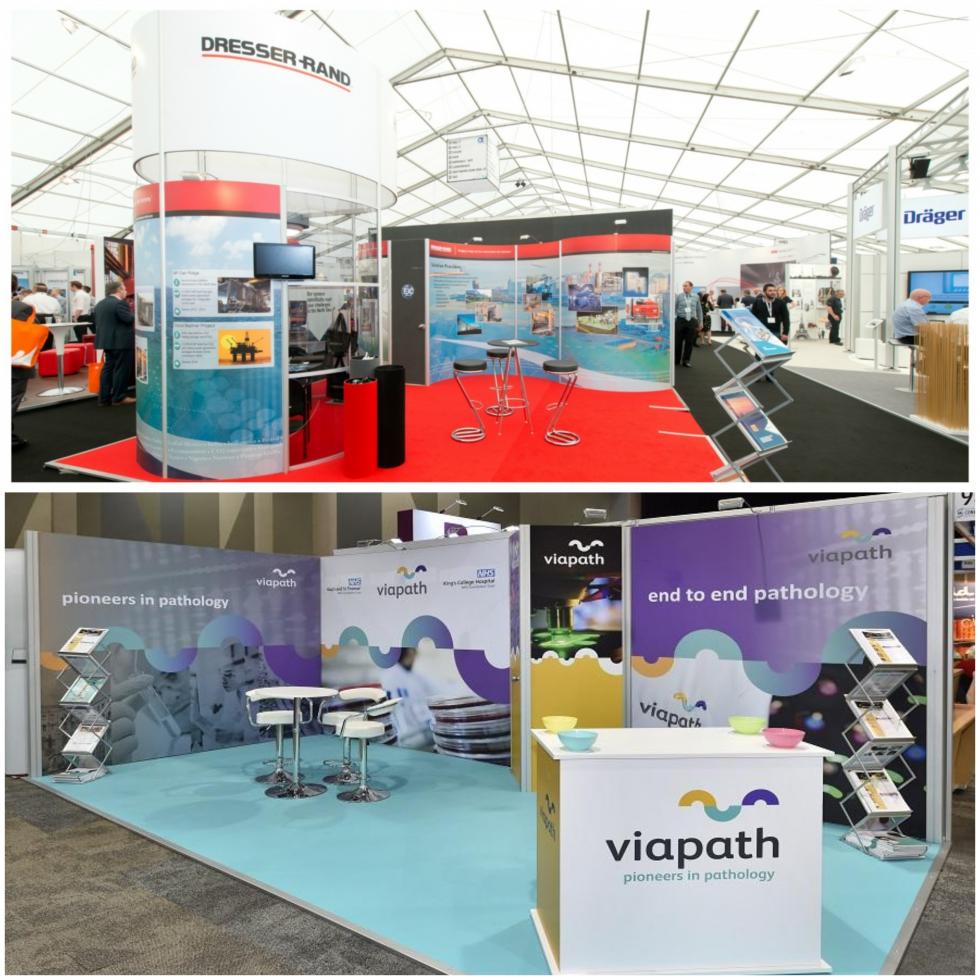 How we work
Our exhibition stand design team like to take a consultative approach to your custom exhibition stand.
We start by talking you through our design brief form to find out what it is you want to achieve from your exhibition experience, both in terms of the finished look of your stand and in terms of budget.

We understand that in order for you to maximise the return on investment, the design of your exhibition stand must be versatile and easy to reconfigure for different shows. It should be adaptable for different sized floor spaces as well as varying positions within the exhibition hall. Our exhibition stand builders plan each show down to the finest detail ensuring that the exhibition experience is a professional and smooth one for your team.

Our stand builders manage all the stand transportation, installation and dismantle arrangements leaving you to focus on the show and enjoy the exhibition.
Exhibition equipment storage
We own a vast amount of secure storage space at our workshops in Peterborough that's insured and professionally managed - making the exhibition experience truly hassle free.

By choosing our exhibition equipment storage option we will pre-build your stand before each show incorporating any redesigns or graphic changes. We will also give you an opportunity to view your exhibition display stand prior to the event.

If you would like to discuss your exhibition stand ideas or obtain a quotation please either contact us on 44+ (0)1733 570222 or complete the design brief form below and we will contact you. To browse our recent case studies visit our portfolio.
What our customers say about us....
- Scott Thomas, Managing Director, Ivyline Ltd
"What a great show. Without a doubt one of the best shows that Ivyline have exhibited at. Our trend setting ranges and inspirational displays were loved by the retailers, bloggers & leading magazines. Thank you GH Display, you were great to work with and we had one of our most successful shows on record"
---
- Ramsy Labassi, Group Marketing Coordinator, Rapidrop Global Ltd
"I would like to thank you and the team at GH Display for the amazing stand you designed and provided us. We had an excellent show and the response has been amazing. Thank you for the time you spent with us on the design and being patient with us with the changes we kept making, even at the last minute. You completely fulfilled the brief which was to create a stand that had the WOW factor, easy to build, reusable and of course within budget. We chose GH Display for your knowledge and enthusiasm for exhibition display and construction, you gave us 100% from the start to finish. I would like to thank you for the ongoing support even whilst we were constructing the stand, the 24 hour hotline was invaluable and apologise for interrupting your weekends and family camping trip! I really don't think we would have got this level of support from anywhere else. Your team have been fantastic throughout, friendly and very helpful, and we look forward to using GH Display very soon."
---
- Jo Morris, Marketing Manager, Eurocell Plc
"During the build of the stand we were regularly kept up to date with progress and any information or actions we were required to complete were communicated in a timely manner. We were invited to view the stand during the build so we could see exactly how the stand would look ahead of the show and make minor alterations if required. This is the first time we have ever seen a stand pre show build and it really helped build our confidence. It was clear at this point we had found a great supplier who delivered what was promised and met all our expectations. A large amount of pre planning was required as the installation of the stand and of our products needed scheduling to ensure both GH Display and our fitters had suitable time, tools and materials to deliver a swift build. Considering the complexity of the stand build it was amazing that the stand was complete and we had left the venue by 5pm the day before show opening! This was by far the most complex stand we have ever attempted to build and GH Display not only delivered this to a very high quality build and finish but also did so well within our agreed budget. Following many bad experiences with stand builders in the last 5 years over 12 exhibitions, our faith has been restored by working with GH Display, they are without a shadow of doubt the best stand builder we have ever worked with. I can be certain we will have a long partnership and I would not hesitate to recommend GH Display. Fantastic company, great service and a joy to work with."
---
- Adam Bromilow, Marketing Manager, Kirkby Tyres Ltd
"The service from GH Display was simple, quick and professional. The production staff were highly experienced, exceptionally creative and super friendly. As a result, our exhibition stand at LAMMA 2016 was perfect for our needs and cast a shadow over that of our competitors. Kirkby Tyres Ltd highly recommend GH display and will certainly be working with them for years to come"
---
- Fiona Stephen, Lecturer, Grays School of Art Aberdeen
"We recently placed an order with GH Display for an external exhibition system as part of the Develop North festival of photography in Aberdeen. We were delighted with the quality of product and service we received from John, Nick and the rest of the team. The units were made to a very high specification and were very simple to construct on site. The team were able to provide a fast turn around time on the order and delivered them in advance of the requested deadline, giving us valuable extra time to prepare the exhibition installation. John was always on hand for advise, going above and beyond to help us with our enquiries throughout the process. I would highly recommend GH Display and will look forward to working with them again in the future. Many thanks! "
---
- Iain Cavell, Managing Director, Measurement Solutions
"Great experience with John and his staff. Always offer advice and suggestions, and the end result is always better than we expected. Highly recommended."
Our creative team of designers, exhibition stand builders and graphic printers would enjoy nothing more than to create an outstanding custom exhibition stand for your business. Anything is possible and we strive to deliver great design, quality build and an extremely high level of customer service. Complete our design brief form below to begin your exhibition stand journey with GH Display.
DESIGN BRIEF FORM