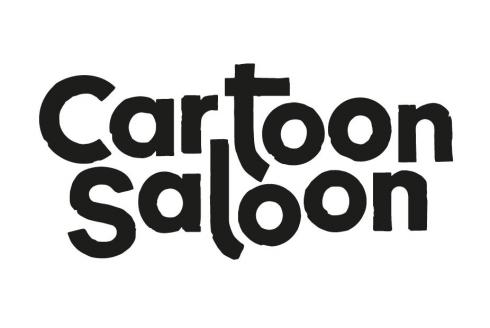 With a collection of beautiful illustrations to showcase, Cartoon Saloon had an illuminating custom exhibition stand at BLE 2021
SERVICES OFFERED
Custom Exhibition Stand
Exhibition Stand Design
Exhibition Graphics
Exhibition Stand Builder
EXHIBITION STAND DESIGN
As a hugely successful animation studio, Cartoon Saloon had some fantastic artworks and related merchandise to showcase at the Brand Licensing Europe Exhibition. Our exhibition stand design brief was to create a custom exhibition stand using backlit illumination, clean lines and an inviting product display area. The Cartoon Saloon team required two separate meeting spaces with a degree of privacy for both to ensure client meetings could be conducted in a semi private way.
THE SOLUTION
The 6 metre x 7 metre stand space had three open sides. We created the back wall using three large lightboxes, each measuring 2 metres x 3 metres high. A hidden walk-in lockable store room was discreetly located behind the lightboxes. A forth smaller lightbox was used as a header for the stand and displayed the Cartoon Saloon logo at 4 metres from the ground up, to ensure the exhibition stand would be seen across the ExCel hall. A raised platform floor was covered with a wood effect vinyl floor covering, framed with aluminium edging and then under-lit with white LEDs so that the whole stand glowed from beneath. A large white timber product display island took centre stage and two further clothing and shelving display units were positioned in the front corner. The other corner was sheltered using a tension fabric framework and a printed voile graphic to give a degree of privacy, whilst allowing some visibility onto the stand.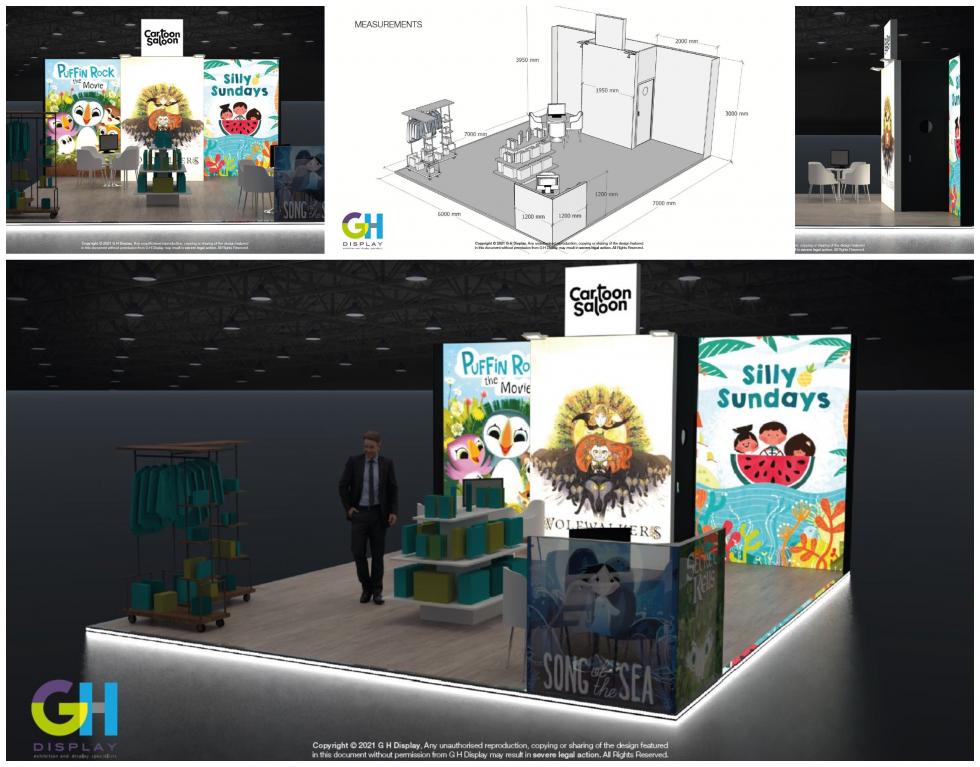 THE OUTCOME
The exhibition stand looked fantastic at the Branding Licensing Europe event and the Cartoon Saloon team had very little downtime throughout the two day event due to the high volume of visitors being welcomed onto their stand space. The Cartoon Saloon folk were a great team to work with leading up to the exhibition and we hope to have the opportunity to work with them at future events.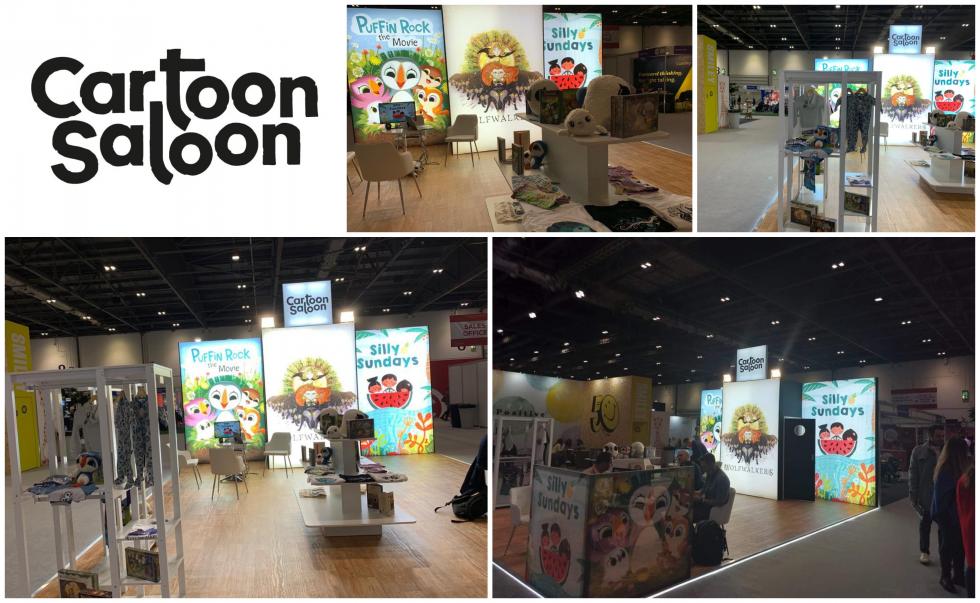 Need help with your next exhibition stand? Call our friendly team today on + (0)1733 570222 to discuss your brief or complete our enquiry form below and we will call you.
ENQUIRY FORM