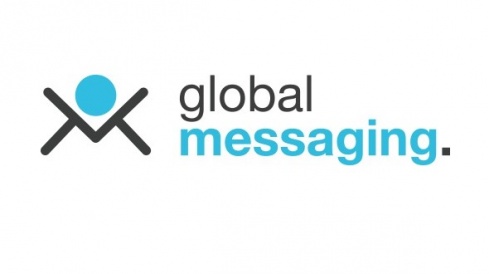 With an intense event programme planned for 2014 and 2015 Global Messaging needed a high quality and versatile exhibition stand.
SERVICES OFFERED
Custom exhibition stand
Graphic printing
Audio visuals
Exhibition stand builders
Exhibition equipment storage
EXHIBITION STAND DESIGN BRIEF
Global Messaging are a long established mobile marketing company with a wealth of experience in helping businesses fulfil their mobile marketing needs and strategies. They asked us to create a 6 metre x 3 metre exhibition stand, sleek and simple in design and an exhibition display that would convey their message clearly, consciously and with style. Adaptability needed to be built into the design so that the maximum return on investment could be achieved should the exhibition stand be used for different sized spaces and event types.
EXHIBITION STAND BUILD
We designed an exhibition stand centred around the company key message 'Global Messaging Made Simple' printed on high quality graphics. The stand had three open sides with one large wall each end and with a return featuring the business web address. The main wall was clad with the company blue media and feature graphics complete with wall mounted plasma screens and built in display tables. The stand floor area was spacious allowing for a bar style table and seating area. A custom storage trunk come cushioned seat was also made and the main wall was illuminated with sympathetic blue LED lighting, set within a clean chrome frame.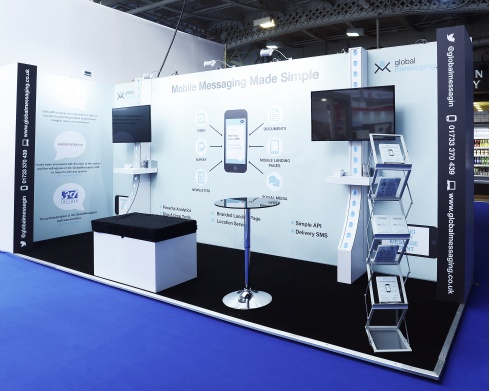 THE OUTCOME
The show brought in valuable leads and was a great success for Global Messaging who have increased their exhibition show attendance hugely for 2015. The stand will be reconfigured for the next exhibition at RBTE 2015. The reconfigured stand will be a 6 metre x 2 metre size exhibition, with two open sides rather than three
If you would like to get in touch with us about a new exhibition stand please complete the form below or call us on +44 (0)1733 570222.
DESIGN BRIEF FORM