Choose from a great range of bespoke modular exhibition stands, any size, shape or design. We offer an array of self build or portable modular displays, as well as more complex custom designed exhibition stands.
SERVICES OFFERED
Self build stands
Modular stands
Exhibition design
Portable stands
What is a modular exhibition stand?
Simply put, a modular exhibition stand is a display stand that is made up of separate components, all of which fit together to make up a complete stand. GH Display has been creating modular exhibition stands for more than 40 years. We're confident that we can supply a convenient solution to meet your design aspirations, branding requirements and budget.
What types of modular exhibition stands are there?
We tend to think of modular exhibition systems as fitting into one of three groups; portable display stands, self build custom modular stands and fully installed modular stands that you can buy or hire. Modular exhibition stands can be adapted easily and added to, as and when your business requires a different design, size or layout.
Where can I get a portable display stand?
You can purchase a modular system from us or hire one if you only need it once. Below is our full range of modular exhibition stand options. Many you can buy online outright on our website, but we also offer a bespoke display stands. For a custom designed product, you can request a quote by completing our quotation request form below.
What is a modular exhibition stand used for?
We stock a large selection of portable modular exhibition stands, ideal for the exhibitor who needs an exhibition solution that is lightweight, quick and easy to install. Our entire range is compatible with further items so they can be extended in the future or reconfigured for other uses. A portable modular exhibition stand is excellent for using in shell scheme systems as well as trade show events where you only have floor space. Most of our modular exhibition systems can be installed by one or two people, with no need for tools or specialist knowledge.
As mentioned, our modular exhibition systems can be extended and reconfigured to suit your needs. This makes them perfect for growing businesses and exhibitors who may want to change the size, layout or design. Many of our portable exhibition stands are two or more kits linked together with clever adaptation kits or linking graphic panels. Not only are they compact and easy to install, but you can use display sections independently of each other.
Why you should choose our display stands
Many of our customers want high-end quality and the tailored uniqueness of a bespoke display stand, but without the ongoing cost of installation by a stand builder. We can design a custom modular exhibition stand that can be self-built, reconfigured and modified as and when required.
A popular custom modular self-build choice is an aluminium framed system that locks together using an Allen key mechanism. We can create any size stand and layout, with a vast range of features, architectural shapes, storage, meeting rooms and custom displays to choose from. Self-built modular exhibition stands can include lightbox tension fabric walls to illuminate your brand truly and ensure you stand out from the crowd.
Our pop-up exhibition stand systems have been developed to serve those who want a refined, professional display stand, but also need a system that is cost effective and transportable.
We have created several standard sizes - 3x2, 3x3, 3x4 and 3x5 - which can be purchased from the Modular Exhibition Stands section of our online shop. They are designed to be used in both a shell scheme system as well as a space-only exhibition. In addition to the standard sizes, we can also build something bespoke to you.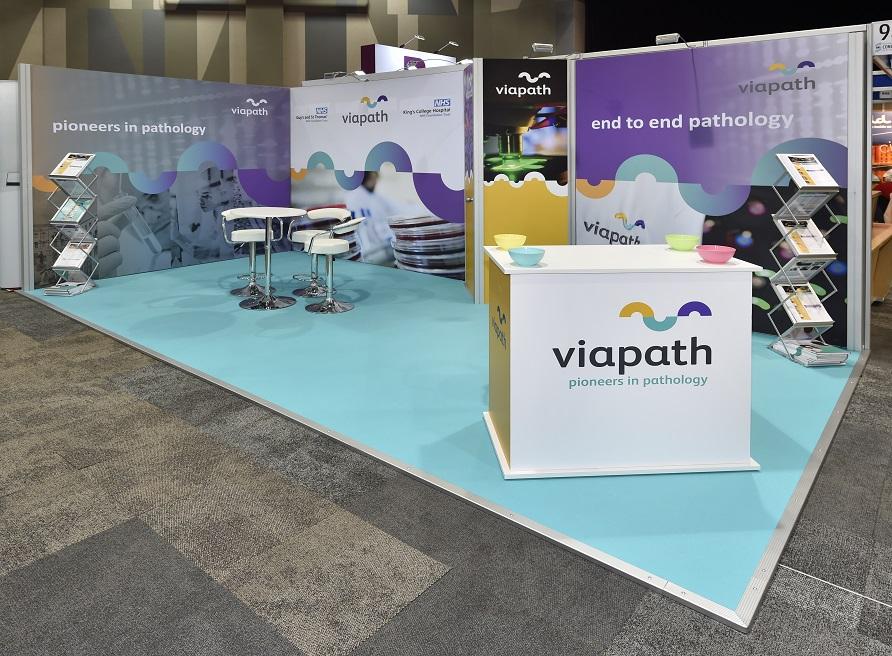 Modular Exhibition Systems to Buy or Hire
We have been designing and building display stands for more than 40 years and, because of this, we have a huge range of modular systems in stock for hire purposes. We can create any shape or size exhibition stand, making it truly custom to your business and event.
What is included in the price?
A hired modular exhibition stand includes the cost of transportation and installation, as well as the display stand itself. We also have a broad range of hired furniture, TVs, monitors, iPads, counters, literature and iPad stands.
For those companies who exhibit two or more times per year, we often recommend they consider purchasing a modular exhibition stand. Depending on how many events a year the stand is used, the initial upfront cost of buying the stand is often recovered after just one year of exhibiting through the savings made by not hiring an exhibition stand.
A modular exhibition stand system is so flexible and can easily be enlarged or reconfigured to suit different events, different stand spaces and sizes. When it's time for a new look, all you have to do is replace the graphics, and you have a whole new display. Our modular exhibition stand systems are available with different types of exhibition graphics. This includes tension fabric graphics with or without LED light boxes and fitted using silicon beading, rigid foamex graphics and vinyl graphic panels, fitted using magnetic tape.
We also offer exhibition stand storage to customers that we provide stand design, build and installation services to.
To obtain a quote for a modular exhibition stand for either hire or purchase call us on +44 (0)1733 570222 or complete our quotation request form below.
You can browse some of our recent exhibition stand case studies in our portfolio